Orchid Info
Orchid plants are available in many different colors and styles. Orchid prices vary according to availability and setting, natural clay pots and saucers are recommended for maximum appeal. Nothing more is ever needed when delivered in this form, just add water. Orchid plants are guaranteed for delivery in the continental USA and must have a second choice when placing your order due to availability and the exotic nature of this gift.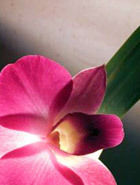 Dendrobium
Most common form of orchid plants and must be considered for 2nd choice if not 1st. Very common and readily available in most areas. Very easy to care for and available in a wide variety of colors.

Phalaenopsis
These beautiful plants are truly stunning and reflect the finest of taste when given as a gift. Elegant and timeless best describes the look of each individual plant. While no two are alike, it is truly a statement of opulence when displayed. Stunningly beautiful and can be located in most areas. This does not release any fragrance and blooms for 3-6 months.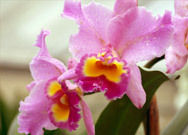 Cattleya
Very exotic in nature but more difficult to locate. Some even produce a pleasing hint of fragrance similar to that of a hyacinth.
Care
Orchids enjoy drinking water 1 to 2 times a week. They love keeping the bottom of the pot dry and free from swimming in water and adore subtle indirect lighting and good air circulation. Also, welcome a once or twice a month feeding with a liquid fertilizer. Dendrobiums, Cattleyas and Oncidiums enjoy bright indirect light. Phalaenopsis, Paphiopedilum, and Miltonias adore the shade. They also grow easily near a window or on a porch. Vandas and Ascocendas love lots of water; increase watering to 2 or 3 times a week. They enjoy bright indirect light.
Orchids like repotting every two years or when they have grown out of the pot. They enjoy growing roots in orchid bark or rocks. Do not use soil. For use as a gentle insecticide, Rubbing alcohol with 70% Isopropyl may be sprayed with a hand sprayer. This is gentle for the plant and bloom.