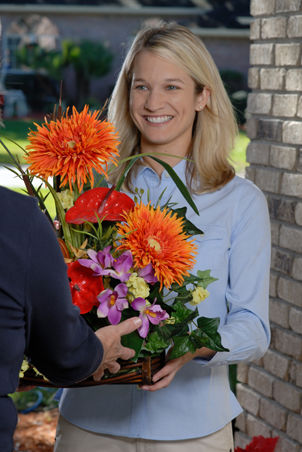 Shipping and Delivery Policy
Veldkamp's Flowers offers same day flower delivery anywhere in the continental United States.
Local Delivery
We utilize our own team of delivery highly skilled drivers to handle same day flower delivery throughout the metro Denver area. We guarantee same day delivery for all orders received before 2:00 p.m. in the recipient's local time zone. Orders received after 2:00 p.m. are guaranteed for delivery the next day. Orders received after 1:00 p.m. on Saturday will be scheduled for delivery the following Monday. In cases of poor weather conditions or items that are sold out, we may need to contact you for a secondary selection. For local deliveries, a standard local delivery fee of $14.99 applies and business deliveries are guaranteed by 5 p.m., Schools by 3 p.m, and Hospitals by 6 p.m. Funeral Home deliveries receive special care, and are scheduled based on the published visitation and service time. For your convenience Veldkamp's customer service team will verify all Funeral Home schedules and adjust delivery times accordingly at no extra charge.
Delivery Status & Condition
Veldkamp's Flowers guarantees that flower arrangements will be delivered in a timely manner. You can expect your flowers to arrive at their intended destination, fresh, fragrant, professionally arranged and absolutely beautiful. Your order will to be delivered on the day you requested. If we have any difficulties with your order, we will contact you by telephone and/or e-mail to work out alternative arrangements. Expect a delivery confirmation email with every flower purchase you submit.
To honor our satisfaction guarantee, the recipient may be called to schedule delivery. We do not accept requests for delivery at specific times of day. We cannot guarantee delivery on Sundays as it is not a standard delivery day for florists. However, we are open and will do our best when requested. In many cases we can get this done for you. Otherwise, Monday will have to be an option.
Flower Deliveries Within The U.S. and Canada
In the U.S. and Canada, same-day delivery is generally available Monday through Saturday on orders received before 12:00 pm in the recipient's time zone (excluding holidays and peak floral delivery periods). Orders received after 12:00 pm in the recipient's time zone may be delivered the next delivery day. There are no deliveries on Sundays and legal holidays. Please make sure that your order information is accurate and complete in order to avoid delivery delays. This would include the apartment or suite # if needed, and most especially a current telephone number.
Delivery Procedure On Sunday
Veldkamp's services many major metropolitan areas with Sunday delivery service, and in many cases we can satisfy your Sunday delivery requests. However, due to limited Sunday coverage around the country we cannot guarantee Sunday delivery. Gifts not delivered Sunday are guaranteed for Monday delivery. Further questions should be directed to customer service at 303-232-2673.
Delivery Procedures When Recipient Is Not Home
The florist may choose to leave the arrangement with a neighbor or manager and attach a note to the recipient's door stating who accepted the arrangement on their behalf; or if the area is secure, to leave the arrangement at the door. The florist may also leave a note on the recipient's door asking the recipient to call the florist's shop and arrange a convenient time for re-delivery. Another option is calling the recipient first to arrange a delivery time. If the recipient is at work all day, we suggest sending the arrangement to the workplace. Incomplete or incorrect address or phone numbers may delay delivery. Most florists employ professional delivery personnel who will find the best delivery choice for your special gift.
Redelivery Procedures
If the recipient at a residential address is not available when your delivery attempt is made, a Veldkamp's gift delivery notice will be left at their door offering a convenient means to reschedule their delivery at a time that is appropriate for them. To ensure superior quality and freshness, re-deliveries are generated as new orders and receive a freshly made gift. Note: Occasionally, depending on weather and location your driver may elect to leave your gift in a safe place for the recipient to find upon their return.
International Delivery Not Available
Due to the various time zones between the U.S. and other continents, same day delivery is not available. We can only guarantee delivery dates for orders received three business days in advance. You must call us to place an international delivery order; you cannot do so online.
Payment Methods
All transactions occurring on our website will be conducted in US currency.